Our Story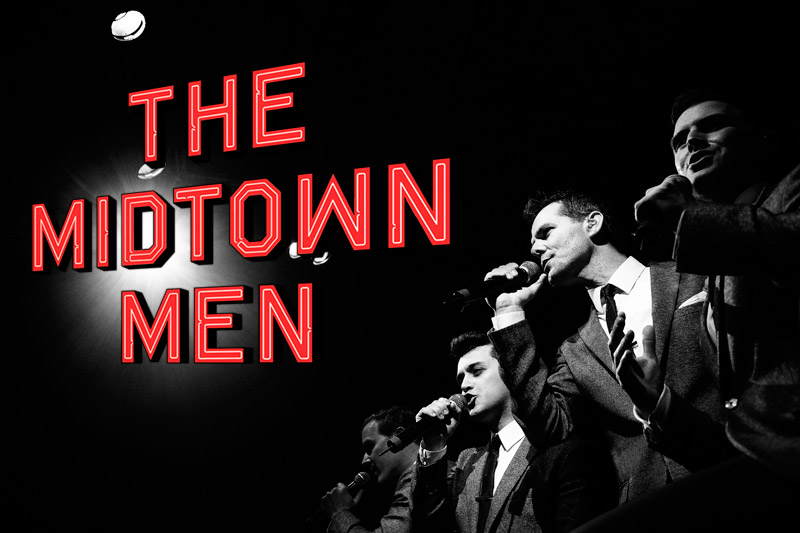 They took Broadway by storm in one of the biggest hits of all-time.  Now on their 5th national tour,  THE MIDTOWN MEN are bringing their magic to audiences everywhere, singing their favorite "Sixties Hits" from The Beatles, The Rascals, The Turtles, Motown, The Four Seasons and more.
"The seats were filled with shouting, singing, dancing in
the aisle fans!" – Times Square Chronicles
This sensational production reunites Four Stars from the Original Cast of Broadway's Jersey Boys. Tony Award winner Christian Hoff, Michael Longoria, Daniel Reichard and Tony Award nominee J. Robert Spencer star in this one-of-a-kind concert experience celebrating the music that defined the '60s.
These talented entertainers shared the Broadway stage for over a thousand performances in the mega-hit Jersey Boys. Now, as The Midtown Men, they've thrilled crowds on concert stages and symphony halls across the continent, and have delighted television audiences with performances on "Good Morning America," "Access Hollywood," "Katie," and "The Chew." The Men recently released their first radio single, "All Alone On Christmas," written and produced by rock icon and Sopranos and Lilyhammer star Steven Van Zandt and backed by Bruce Springsteen's E Street Band. They were honored to perform the song at the White House for the National Tree Lighting Ceremony in Washington DC.
Don't miss this electrifying and soulful new production with its top-shelf choreography, incredible vocal performances and legendary onstage chemistry that is THE MIDTOWN MEN!