Our Story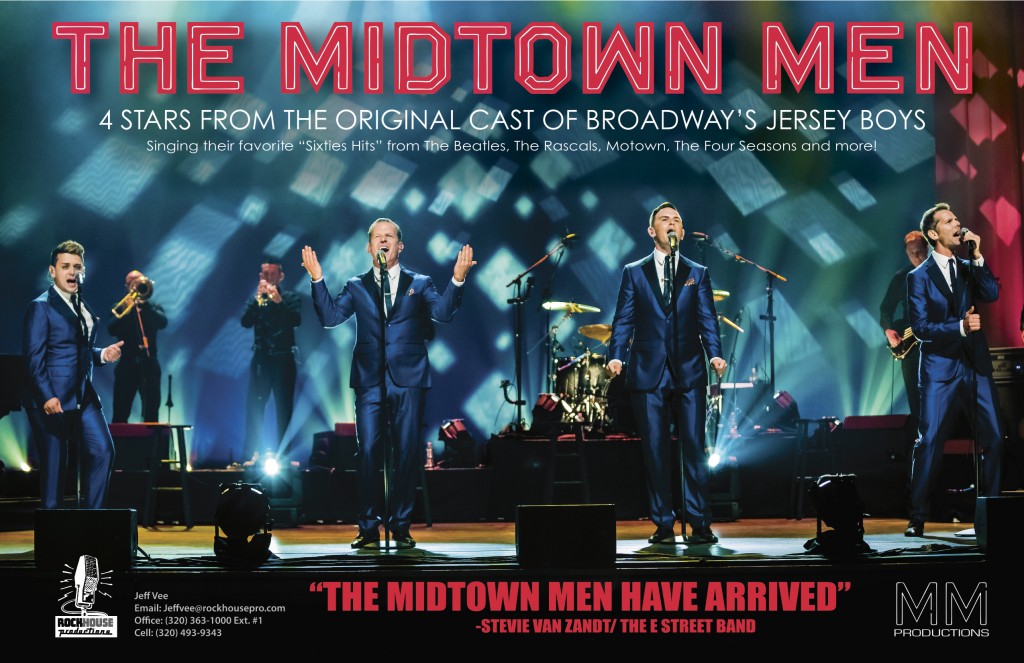 The high-octane musical tour de force that took the Jersey Boys phenomenon to Broadway and beyond, brings to life the greatest hits of the Sixties, rocking performing arts centers and symphony halls across the continent. Tour highlights for these Four Broadway vets and their powerhouse Seven piece band recently included a triumphant return to their "Jersey" roots with a live concert special filmed at the New Jersey Performing Arts Center in partnership with PBS. Catch the 90-minute show, captured in high-definition by Grammy and Emmy Award winning team Pierre & François Lamoureux, on public television stations to broadcast nationwide.Following the development of Jersey Boys and historic three season run on Broadway, THE MIDTOWN MEN are lifting audiences to their feet in venues across the continent,  realizing the dream they brought to life as the iconic Four Seasons. THE MIDTOWN MEN is the next chapter for these accomplished entertainers, making them the first vocal group ever formed by the principal cast of a high-profile Broadway show.
Not only have they continued to win over audiences of all ages in nearly 2,000 live shows, their self-titled debut album, THE MIDTOWN MEN: Sixties Hits was met with critical acclaim and garnered 5 star album reviews across iTunes and was followed by their first radio single "All Alone On Christmas" with producer Steven Van Zandt and members of Springsteen's E Street Band. Now the men have raised the bar once again with their explosive new live record, THE MIDTOWN MEN: Live In Concert and companion DVD/Bluray.
Download The Midtown Men App, available at iTunes and Google Play stores.